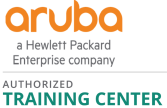 Aruba ClearPass Fundamentals (ACF)
Course Overview
The Aruba ClearPass Fundamentals instructor-led course prepares participants with foundational skills in Network Access Control using the ClearPass product portfolio. This 3-day course includes instructional modules and hands-on labs to lead participants through the implementation and configuration of a ClearPass Network Access Control solution. This course is the first of two sections in the complete ClearPass Essentials course, and is designed to build the learner's foundational knowledge in authentication and access control using ClearPass.
This course is primarily focused on ClearPass fundamentals, but provides the basics on the device configuration required when considering the interaction between the Network Access Control Device and ClearPass. Participants will learn how to configure access control logic within the Policy Manager. Understand how to use ClearPass Guest to configure a convenient yet secure public access network. Participants will also explore device profiling. In addition, this course covers integration with external Active Directory servers and Monitoring.
Who should attend
Ideal candidates include network administrators who are looking to build their foundational knowledge of the ClearPass product portfolio. This course would be beneficial for customers who are seeking greater knowledge of the ClearPass product that they have purchased. We recommend that students have at least an understanding of basic access layer networking, the function of ACL's and firewall rules.
Certifications
This course is part of the following Certifications:
Course Objectives
After you successfully complete this course, expect to be able to:
Set up ClearPass as a AAA server
Configure authentication sources including integrating with Microsoft Active Directory
Build effective access enforcement policies
Understand and troubleshoot 802.1X access services
Configure custom informational webpages
Configure a personalized guest access solution including, simple web logins as well as self-service guest access.
Understand how to configure a simple wired access solution using ClearPass.
Follow On Courses
Course Content
Intro to ClearPass
Basic Concepts of Network Access Control
ClearPass Use Cases
Authentication, Authorization, Accounting
Authentication Basics
Multi-Level Client Authorization
Radius Accounting
Configuration of Authentication Sources Including LADP and Active Directory
External Connectivity
Configuring Network Access Devices
Configuring Email Messaging Servers
Aruba Security Exchange Integration
Integration with Enterprise Mobile Managers
Endpoint Profiling
Device Type Identification
Profiling Collectors
Roles and Enforcement.
Introduction to Services
Implementation of Enforcement Logic.
ClearPass Role Assignment
Configuring Services
Service Selection Logic.
Implementation of Effective Services in ClearPass
Wired Authentication
Wired Access Control
Enforcement on Wired Networks.
Endpoint Profiling on Wired Networks
Configuring Web Services
Custom Web Content
ClearPass Skins Web Templates
Custom Informational Webpages
Introduction to Guest
Guest Access with Captive Portal.
Web-Based Authentication
Guest Access with MAC Caching.
Guest Account Management
Guest Access with Self Registration.
The Self-Service Guest Access Experience.
Configuring a Self-Registration Portal.
Configuring Self-Registration with Internal Sponsorship
Online Training
Dauer 3 Tage
Preis
(exkl. MwSt.)
Sprache der Kursunterlagen: Englisch
Classroom Training
Dauer 3 Tage
Preis
(exkl. MwSt.)
Deutschland:

2.590,- €

Schweiz:

2.590,- €
inkl. Verpflegung
Sprache der Kursunterlagen: Englisch
Kurstermine
Garantietermin: Kursdurchführung unabhängig von der Teilnehmerzahl garantiert. Ausgenommen sind unvorhersehbare Ereignisse (z.B. Unfall, Krankheit des Trainers), die eine Kursdurchführung unmöglich machen.
Deutsch
Zeitzone Mitteleuropäische Sommerzeit (MESZ)
Online Training
Zeitzone: Mitteleuropäische Sommerzeit (MESZ)
Garantietermin!
Englisch
Zeitzone Mitteleuropäische Sommerzeit (MESZ)
7 Stunden Differenz