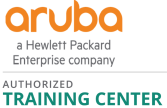 Aruba Advanced ClearPass Troubleshooting & Solutions (AACTS) 20.41
Dieser Kurs ersetzt:
Aruba ClearPass Advanced Labs
(CPA)
Course Overview
This advanced level course is taught as a workshop. Participants will be led through a real-world design and implementation scenario encompassing all aspects of the ClearPass security product. This 5 day course will cover the design, implementation and troubleshooting of ClearPass solutions. The course is presented as a workshop, meaning that it is focused on student participation and hands-on labs to reinforce concepts, through design exercises and lab debriefs as well as planning and implementation of the design. This is not a course that relies on a step by step lab guide and you will be challenged to find creative solutions to the scenario and by the nature of this workshop you will master troubleshooting techniques in ClearPass.
Who should attend
The ideal candidate for this course is very familiar with ClearPass, Aruba Switches and Wireless products. Candidates should have worked with ClearPass or passed the Aruba Certified ClearPass Professional (ACCP) certification exam. Students should be looking to increase their ClearPass design, implementation and troubleshooting skills with this course.
Certifications
This course is part of the following Certifications:
Prerequisites
The suggested prerequisites for this course are to attend the Aruba ClearPass Fundamentals (ACF) course or pass the Aruba Certified ClearPass Professional (ACCP) certification exam.
Course Objectives
After you successfully complete this course, expect to be able to:
Design and implement a multi-server ClearPass cluster.
Design, implement and troubleshoot a complex ClearPass installation.
Integrate ClearPass with a variety of Network Access Devices from multiple vendors.
This Advanced Workshop covers all of the subjects and skills required to prepare for the Aruba Certified ClearPass Expert (ACCX) exam.
Course Content
Multi – Server ClearPass Cluster Design
Placement of servers in the physical environment
High-availability concepts
EAP/RADIUS and HTTPS Certificates document
Administrative Access Control
TACACS + access for Network Devices
Policy Manager Administrative Profiles
ClearPass Guest Operator Profiles
Guest Network Access
Web Page Design
Advanced Self – Registration design
Advanced Guest Access Services
AirGroups Configuration
Guest Device Registration
Secure Network Access
Advanced Service Design
Advanced Enforcement
Authentication Source Configuration
Advanced ClearPass Modules
Onboard and BYOD Deployment
Endpoint Posture Design
Advanced Profiler Configuration
Wired Authentication
Note: This course focuses on the ClearPass integration aspect of the design, students should already be familiar with basic switch configuration.
Configuration of Multi-Service Ports
OnConnect and SNMP Based Enforcement
Downloadable Roles
Dynamic Segmentation
Classroom Training
Dauer 5 Tage
Preis
(exkl. MwSt.)
Deutschland:

3.250,– €

Schweiz:

3.250,– €
inkl. Verpflegung
Verpflegung umfasst:
Kaffee, Tee, Saft, Wasser, Cola
Gebäck und Süßigkeiten
Frisches Obst
Mittagessen in einem der naheliegenden Restaurants
Gilt nur bei Durchführung durch Fast Lane. Termine, die von unseren Partnern durchgeführt werden, beinhalten ggf. ein abweichendes Verpflegungsangebot.
Digitale Kursunterlagen
Sprache der Kursunterlagen: Englisch
Kurstermine
Englisch
Zeitzone: Mitteleuropäische Zeit (MEZ) ±1 Stunde