Kursangebot
Training nach Technologie

Training nach Hersteller
Weitere Aruba Zertifizierungen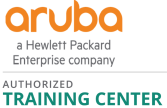 Aruba Certified Mobility Professional (ACMP)
Validate you have the networking knowledge and skills required to implement, configure and manage advanced Aruba Wireless Local Area Network (WLAN) enterprise solutions utilizing the V8 operating system (AOS8) architecture and features.
This certification validates knowledge and skills in these key areas and more:
Configuring and using the Mobility Master for consolidated network management
Uses and advantages of clustering
Redundancy and providing user seamless failover
Utilizing MultiZone to have multiple and separate secure networks while using the same Access Point (AP)
Utilizing secure Tunneled Node for wired switches
Utilizing AirWave to monitor the health of the wired and wireless network
Troubleshooting devices, users and applications on Aruba Mobile First networks
Why earn this certification?
Position yourself as a trusted team member who can contribute to the design, deployment and management of the latest Aruba Mobile First Network solutions
Demonstrate your ability to implement and manage Mobile First Networking solutions utilizing advances and innovations from AOS8
Advance your career as a Aruba Certified Mobility Professional (ACMP) who is proficient at building Mobile First Networks.
Voraussetzungen
Typical candidates for this certification are networking IT professionals with a minimum of one to two years experience in deploying network solutions for the enterprise.
Skill level
Professional
Prerequisites
ACMA certification is a required pre-requisites for ACMP V8. Both ACMA 6.4 and ACMA V8 versions will be accepted as pre-requisite.
Candidates must pass the Scalable WLAN Design & Implementation (SWDI) 8 certification exam on PearsonVUE.
Duration: 1 hour, 30 minutes
Length: 66 questions
Exam Code: HPE6-A44
Upgrade Paths
Fast track options are available for industry certified individuals with a CCNA, CWNP or ACMP V6: certification holders can by-pass the ACMA pre-requisite and go right to ACMP exam.
Empfohlenes Training
Tests