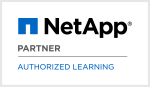 NetApp Data Protection Administration (DATAPROT)
Course Overview
Each delegate receives a free NetApp exam voucher with this course. The voucher can be used to take any NetApp certification exam through Pearson VUE.
Who should attend
NetApp customers, partners, and employees
Certifications
This course is part of the following Certifications:
Prerequisites
Data ONTAP Cluster-Mode Fundamentals (WBT)
Course Objectives
By the end of this course, you should be able to:
Describe NetApp protection technology and the NetApp integrated data-protection solutions that are supported in Clustered Data ONTAP 8.3
Design, implement and manage Snapshot copies
Design, implement and manage Clustered Data ONTAP 8.3 SnapMirror replication
Design, implement and manage Clustered Data ONTAP 8.3 SnapVault replication
Use OnCommand System Manager to set up and manage backup and restore operations
Understand how to implement the NDMP protocol in Clustered Data ONTAP 8.3
Course Content
Become proficient with Data ONTAP Snapshot®, SnapRestore®, SnapMirror®, SnapVault®, Open Systems SnapVault, and NDMP technologies used to replicate and restore mission-critical data in the enterprise. Backup and restore operations are taught using the NetApp storage system command line and OnCommand System Manager. The course also provides an overview of the Data ONTAP 8.3 MetroCluster solution.
Click on town name to book
Schedule
This is a
FLEX
course, which is delivered both virtually and in the classroom.
Asia Pacific