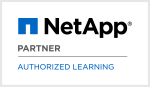 Clustered Data ONTAP 8.3 Administration (D8CADM)
Who should attend
This course is designed for anyone who needs to install, configure, and/or administer Data ONTAP 8.3 clusters.
Prerequisites
It is required that students have a working knowledge of SAN and NAS concepts.
Course Objectives
Data ONTAP 8.3 is the next generation data storage operating system from NetApp. It combines the stability of Data ONTAP 7G with the cutting-edge scalable clustering of Data ONTAP GX. In this course, you will learn the evolution of Data ONTAP clustering, understand the benefits of the product, be able to explain the architecture and functionality of a Data ONTAP cluster, and be able to install, configure, manage, and troubleshoot Data ONTAP clusters.
By the end of this course you should be able to:
List the benefits of Data ONTAP and explain its two modes of operation
Enumerate and describe the steps for setting up a cluster
Manage the various failover capabilities of a cluster
Identify the networking components and networking features of a cluster
Diagram the architecture of the internals and externals of a cluster
Manage NFS and CIFS in a cluster
Administer mirroring and data protection for a cluster
Perform basic troubleshooting of a cluster
Explain the notification capabilities of a cluster
Describe the characteristics of a cluster that affect its performance
Add controllers to a cluster
Follow On Courses
Click on town name to book
Schedule