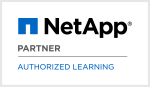 Data ONTAP SMB (CIFS) Administration (CIFS)
Who should attend
This course is intended for those who provide support and administration for a CIFS environment on NetApp storage systems running the Data ONTAP operating system.
Prerequisites
The following pre-requisites are required for this course:
Course Objectives
At the end of this course you will be able to:
Define and describe CIFS protocol versions
Describe configuration in Data ONTAP operating in 7-Mode
Describe configuration in clustered Data ONTAP
Use the Data ONTAP PowerShell Toolkit to write PowerShell scripts
Configure home directories with the Data ONTAP operating system
Work with symbolic links and widelinks
Configure Dynamic Access Control
Review performance management for CIFS environments
Detail troubleshooting techniques for NetApp storage systems and clients who use the CIFS protocol
Course Content
This course demonstrates how to administer CIFS version 1.0, 2.0, and 2.1 in Data ONTAP operating in 7-Mode and CIFS version 1.0, 2.0, 2.1, and 3.0 in clustered Data ONTAP.
Click on town name to book
Schedule
This computer icon in the schedule indicates that this date/time will be conducted as Instructor-Led Online Training.
This is a
FLEX
course, which is delivered both virtually and in the classroom.
Germany
Currently no local training dates available. For enquiries please write to info@flane.de.
FLEX Training
Please see below our alternative, English language, FLEX course options.
30/06/2017
FLEX training
This is an English language FLEX course.


Time zone: Europe/Stockholm
1 day