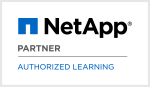 NetApp OnCommand Unified Manager Administration (OCADM)
Zielgruppe
The target audience is NetApp Employees, Partners and Customers
Voraussetzungen
The following pre-requisite or equivalent knowledge is required for this course:
Kursziele
By the end of this course you should be able to:
Monitor and manage physical and virtual storage infrastructure
Provision storage for VMware virtual infrastructure using SnapDrive for Windows
Provision storage for application datastores using OnCommand provisioning capability
Perform policy-based backups using OnCommand protection capability
Clone VMs and backup and recover VMware infrastructure using On-Command plug-in for VMware
Administer security to enable business policy compliance
Automate storage provisioning and protection by using storage catalogue
Monitor and analyze storage systems and vFiler unit performance using Performance Advisor
Kursinhalt
Centralize your ability to deploy, automate, protect and monitor all your storage with NetApp® OnCommand™ unified manager software. With its unique capability of monitoring and managing both physical and virtual storage infrastructures, it offers effective, cost-efficient management of your shared storage infrastructure. It enables you to optimize utilization, meet SLAs, minimize risk, and boost the performance of your storage infrastructure. This course provides an overview of the features of OnCommand management software. In this course you learn to administer your storage infrastructure by using OnCommand management software.
*FREE Web Based Training*
This course will help you prepare for the 4 day NetApp OnCommand Unified Manager Administration course. You will need to have a Customer or Partner level NetApp NOW account to access this free program.
Technical Overview of OnCommand System Manager
By the end of this one hour course, you should be able to:
Describe OnCommand System Manager
Install OnCommand System Manager
Discover and add storage systems to the OnCommand System Manager interface
Create and manage aggregates, volumes, qtrees, and LUNs
Configure CIFS, NFS, iSCSI, and FC protocols
Use OnCommand System Manager to manage vFiler® units and Vserver
Create and manage SnapLock® enterprise workflow
Use OnCommand System Manager to create VMware® file systems
Use OnCommand System Manager to manage backup and recovery of data
Use OnCommand System Manager to configure the AutoSupport™ support tools
If you are interested in viewing any of the above Web Based Training, please send an email with your contact information to info@flane.de or call +49 (0)40 25 33 46 10 to receive links to the programs.
Zum Buchen bitte auf den Ortsnamen klicken
Kurstermine
Fast Lane wird alle garantierten Termine unabhängig von der Teilnehmerzahl durchführen. Ausgenommen sind höhere Gewalt oder andere unvorhersehbare Ereignisse (wie z.B. Unfall, Krankheit des Trainers), die eine Kursdurchführung unmöglich machen.
Dies ist ein Instructor-led Online Training, das über WebEx in einer VoIP Umgebung durchgeführt wird. Sollten Sie Fragen zu einem unserer Online-Kurse haben, können Sie uns jederzeit unter +49 (0)40 25334610 oder per E-Mail an info@flane.de kontaktieren.
Dies ist ein
FLEX
™-Kurs. Sie können an einem
FLEX
Training sowohl bei uns vor Ort im Klassenraum als auch über das Internet von Ihrem Arbeitsplatz oder von zu Hause aus teilnehmen.
Nordamerika
USA
17.10. - 20.10.2017
Online Training
Zeitzone: US/Central
Kurssprache: englisch
Garantietermin!