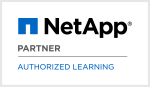 Configuring and Monitoring NetApp E-Series and EF-Series Storage Systems (CMESERIES)
Zielgruppe
This course is designed for Professional Services workers who are NetApp employees, NetApp partners, or NetApp customers.
Zertifizierungen
Empfohlenes Training für die Zertifizierung zum:
Voraussetzungen
Basic Windows or Linux administrative experience
Kursziele
By the end of this course, you should be able to:
Identify E-Series and EF-Series product hardware
Cable and connect E-Series or EF-Series systems to a fabric
Install the SANtricity client on a storage management station
Configure an E-Series or EF-Series storage system
Create usable storage space on an E-Series or EF-Series storage system
Evaluate customers' needs and suggest storage configurations that meet those needs
Use SANtricity features to restore lost data
Check E-Series or EF-Series storage system status
Upgrade and maintain SANtricity and E-Series or EF-Series code levels
Use the AutoSupport feature
View and use support data that provides information about E-Series or EF-Series storage systems
Diagnose management connection issues
Resolve storage system host-side issues
Resolve drive failures
Use SANtricity tools to service E-Series or EF-Series storage systems
Kursinhalt
In this course, you learn how to configure a new E-Series or EF-Series storage system and establish connectivity with a SAN. You use the SANtricity® storage management (v11.25) software and CLI to manage the E-Series and EF-Series controllers. You also use SANtricity storage management software features to restore data. Additionally, you learn how to support and monitor E-Series and EF-Series storage systems by performing various troubleshooting tasks, such as evaluating support data and using the built-in tools to identify storage system errors.
Zum Buchen bitte auf den Ortsnamen klicken
Kurstermine
Fast Lane wird alle garantierten Termine unabhängig von der Teilnehmerzahl durchführen. Ausgenommen sind höhere Gewalt oder andere unvorhersehbare Ereignisse (wie z.B. Unfall, Krankheit des Trainers), die eine Kursdurchführung unmöglich machen.
Mit der nächsten Buchung wird dieser Termin zu einem Garantietermin.
Dies ist ein Instructor-led Online Training, das über WebEx in einer VoIP Umgebung durchgeführt wird. Sollten Sie Fragen zu einem unserer Online-Kurse haben, können Sie uns jederzeit unter +49 (0)40 25334610 oder per E-Mail an info@flane.de kontaktieren.
Nordamerika
USA
07.03. - 10.03.2017
Online Training
Zeitzone: US/Central
Kurssprache: englisch
Garantietermin!
30.05. - 02.06.2017
Online Training
Zeitzone: US/Central
Kurssprache: englisch
15.08. - 18.08.2017
Online Training
Zeitzone: US/Central
Kurssprache: englisch
24.10. - 27.10.2017
Online Training
Zeitzone: US/Central
Kurssprache: englisch
18.12. - 21.12.2017
Online Training
Zeitzone: US/Central
Kurssprache: englisch